Sound Deadening
There are two basic levels of sound deadener/DynaMat, both come in sheets and rolls with a peel-off adhesive backing. The basic type is made of asphault, then there is a lighter, higher-performing version made of other materials (For example DynaMat Extreme). I chose to get the higher performing vinyl type but in cheap generic form from PartsExpress, which is much cheaper yet perferoms well and saves weight. When you open the panel you will notice MINI has already placed a rectangular piece in the center of the door metal. I cut and added sheets to the rest of the door inside, as well as to the door metal near the speaker. I also applied some to the door panel as well, as pictured below, to hopefully further reduce its vibration. Be sure to apply pressure all around the sheet when applying.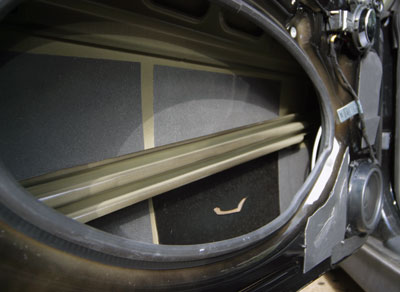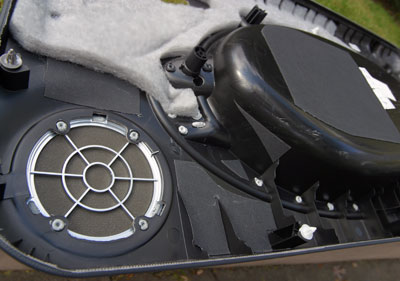 Water protection with speaker baffles

The back of the speakers are exposed to the inside of the door. Water can get in through the window seal, and large amounts may fall onto the speaker. Here is what happened to mine, corroding the speaker wire until it broke: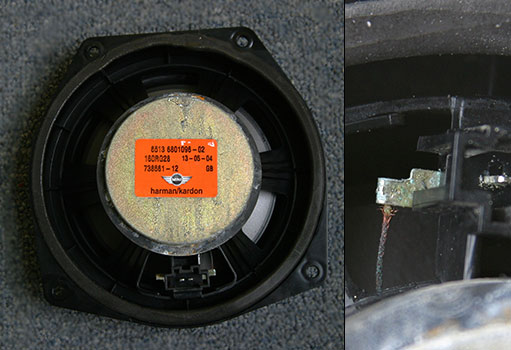 This can be resolved with a pair of foam speaker baffles. Order 6.5" diameter, 3.25" depth. (Pictured are mine from parts express which are 4.5" deep and too deep). Slice a small hole in the bottom to pass the speaker connector through. Unscrew the four phillips screws and slowly pull the speaker off the door from the top. Disconnect the speaker wire connector.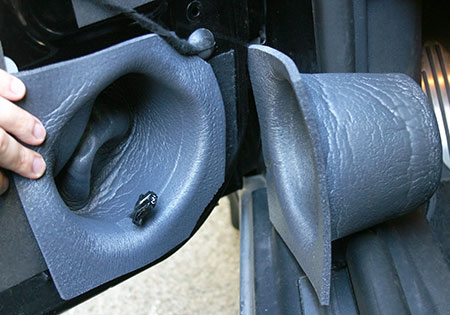 I trimmed the corners of the baffle so they don't stick out from the door panel. Place the baffle in the door, reconnect the speaker and place it in the baffle. Screw the speaker back into the door.