As you should be familiar with my Car Care page, I have a long list of cleaning products and I'm always in search of improvements. Many cleaning products have a wide range of qualities and prices, for example cheap waxes you can get in any store, better waxes, and high-end polymers like the Zaino I use. But there was one product I had never seen a competitor for: RainX.
I have used Rain-X Glass Treatment since I first got my license and it really works as advertised. Rain flies off your windshield at highway speeds and you almost don't even need your wipers. It is especially useful with the MINI's steeply sloped windshield, where it doesn't even need to be raining very hard before your view is completely blinded. RainX is cheap and available everywhere. But, it doesn't last long. You don't notice it disappearing but it seems to work noticeably for only the first few days after applying.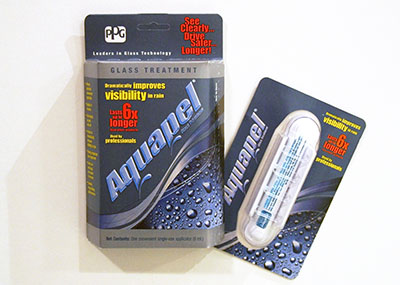 A few months ago I started to search for an alternative to RainX and found PPG Aquapel. It does the exact same thing, but advertises that it lasts six months! The very few forum discussions I found seemed to support the claim as well, so I certainly had to try it. But Aquapel is very hard to find, and can be expensive. So I decided to do a true head-to-head between the two products not only for myself but for you too. I applied Aquapel to the driver's half of my windshield and RainX to the passenger half. I left a small strip in the middle untreated so I could compare just how much either were doing over no treatment. Then, whenever it rained and I had the chance, I took video.


Click here to download the video. [H264 MP4 3min 9.4MB]
Of course with my luck as soon as I started this experiment, we barely had any rain; in fact we had the second driest March in history! Furthermore it is hard to see the effects through the eyes of the video camera as much as the human eye. But the difference is still obvious. Aquapel outlasted the RainX and to this day continues to perform as it well as it did on day one. RainX quickly became less and less effective. On closer examination, the RainX actually is still working in the upper passenger-side corner. This shows that it's not so much time or weather that hurts RainX but the wear of the wipers themselves. Aquapel however is not affected by wiper use.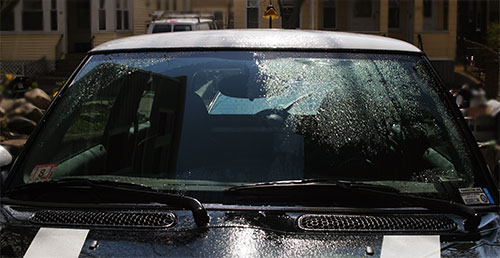 The above photo, taken after washing the car on Day 72, shows the water beading well on the Aquapel side. Aquapel prevents the water's surface tension from sticking and small beads of water result. The top corner of the Rain-X side does as well, but the left wiper has clearly worn off the Rain-X and the water adheres to the glass resulting in a film of water.
RainX is a liquid in a bottle that you apply with paper towels and buff off similar to car wax and is a really a 4-step application process. Aquapel only comes in single-use applicators that you crack like a glow stick, rub on, and buff off. I easily applied Aquapel to the the front and rear windshield and mirrors, and if I was more conservative might also have had enough for the side windows as well. But because both products need high wind speeds (traveling at least 40mph), they are really only effective on the windshield. They do also claim to make snow and ice harder to stick.
A single application of Aquapel costs about as much as an entire bottle of RainX, however if you applied RainX every week or two the Aquapel would still last much longer than the bottle. Aquapel is the clear winner in my book. You probably won't find Aquapel in stores, but it is available from The Tire Rack
and Amazon.com,
or bulk on eBay.
Update: After eight months, the Aquapel was still going strong. read