Spring has finally arrived in New England and so begins my several-week process of cleaning the car and detailing it to its super clean summer condition. The first step is to wash the car, of course. Afterwards I fill in the hundreds of paint chips and scratches that accumulated over the last year with touch-up paint. If you've used the standard paint in a white out-like bottle, you know it is impossible to apply a small enough amount with the brush in the cap.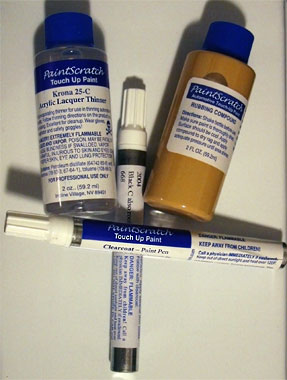 Last winter I found a company online that makes touch-up paint in all colors in the form of a paint pen. PaintScratch has an easy to use web site that allows you to pick your specific color and place an order. The pens are similar to Sharpies but use real automotive paint. And like real paint you have a pen for the base color and another for the clearcoat. Because they have a nice beveled tip you can easily apply just the corner into a thin scratch, and paint will not blob in holes from chips.
This is where I stop for the week, because I like to give the paint a week to cure before any wax or polish is applied to it. So in a week or two will be the true detailing process that often takes me six hours, including polish, claybar, and the initial several layers of Zaino.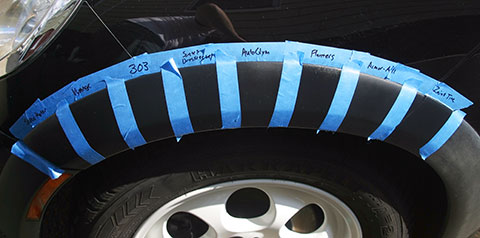 I have also begun another comparison test, this time of all the products I have for cleaning up the textured black plastic fender trim. It looks great when new, but over time the plastic loses its oils and the texture holds in dirt and wax residue. NAM has had a good discussion on the topic. Most products I've used don't last much longer than a week, so I have some new ones along with the previous products (and of course the popular home remedy, Planter's Peanut Oil!) and we'll see in a few weeks which one wins.
Additionally, I have updated my car care page with some of the new products I am using this year, as well as fixed some outdated links. Remember that page for quick reference of all the cleaning products I currently use.