Unlike other cars, few MINIs are bought from dealer stock; most are ordered specifically for the customer. Not only does this process allow you to get your specific choice of thousands of options, but MINI also allows you to track your MINI's progress through the order process. You can do so with a generalized 5-step status on MINI's Owner's Lounge site, but thanks to the internet you can find much much more information to help with the excruciatingly suspenseful wait for your MINI! I went through this with my MINI before this blog existed (see my car log page for some of the history), but I had the opportunity to go through it all again with my girlfriend's mini.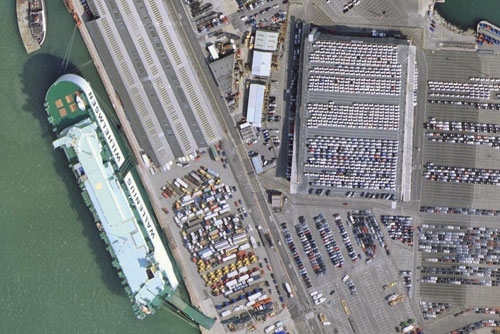 When you place an order for a MINI, your Service Advisor (SA) will find a slot in the dealership's monthly allocation and then give you a production number. Once the computer systems are updated with your order, you can enter that production number into the owner's lounge and verify the order. You can then ask your SA or call 1-866-ASK-MINI to find out the estimated Production Week. This is the week number (the first week of the calendar year is Week 1) that your MINI should be made barring any major delays at the factory. While you are waiting for time to pass to get to that week, log on to the First Gear forum on NAM or the Delivery, Shipping & Order Tracking forum on MINI2 where you can converse with many others in your same production week or month. Waiting is much easier with company!
When your production week rolls around, you can check the owner's lounge for an updated status, but you may also want to call ASK MINI and speak to a human. Their information is a day or two more up to date on the web site, and also more specific. They can even tell you what stage of production your car is in as it moves through the factory! It's always fun to find someone in the forum who is in the paint shop at the same time as you, for example.
ASK MINI and the Owner's Lounge usefulness ends, however, when your MINI is "born" from the end of the production line. At this point you should have your car's VIN number, not only enabling you to get the ball rolling with your insurance company, but allowing you to monitor its voyage across the Atlantic. Most (but not all) MINIs are shipped via Wallenius Wihelmsen (WW), and if so you can track your MINI on their tracking website. Select Auto Cargo and enter your VIN as the tracking number. It will show up if it has been pre-booked for a ship as shown on the bottom line in the picture below.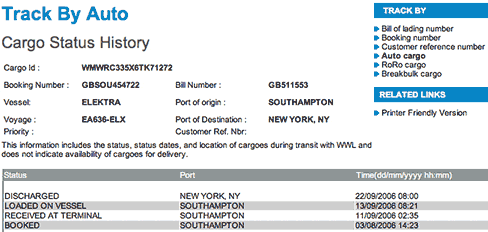 First it takes 1-3 days to be transported via train from the factory here in Oxford to the docks here in Southampton. The very top photo shows many MINIs waiting to be loaded on a ship at the Southampton port. From the cargo tracking WW page, click on the Voyage ID to see when the ship is planned to be in each port. Often you will find it is on its way from Germany or elsewhere to Southampton, and you can estimate when it will hit American shores. Anything in red means it has already completed that line.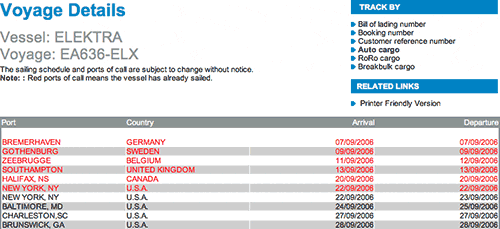 If you really want detail you can sign up for a free account over at AISLive and track your ship in and around the port of Southampton. They show you all the boats in port but you have to be quick as they are near-live! I caught it when it was already sailing out.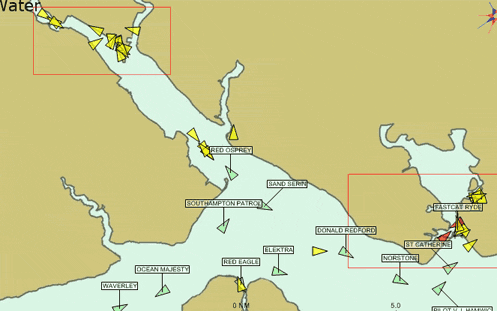 For the long voyage across the atlantic, some captains choose to publicly transmit weather data, of use to other boats making the trek. If they choose to do so (and the WW ships usually do), you can plot the positions of their reports at SailWX. Over time, you will see the path your MINI takes across the pond!

This is a good time to find out more information about your MINI's week at sea. Search the internet for your ships name, or look on WW's fleet page for photos and technical stats on your boat. You can also copy the booking number from your cargo status page, and enter that into the booking number tracking; you will get a list of all the VINs of fellow MINIs on the cruise with yours. Ours had 174! If weather participates, you should be in port on the scheduled date. Sometimes there is a day or two delay as they wait for space to unload all the cars.
Once your MINI is on US soil, the final and toughest part of your wait occurs at the VDC. No one, including your MA and ASK MINI, has an update on any progress at that time. The Vehicle Distribution Center is where the cars are unloaded off the boats, inspected, repaired of any shipping damages (Yes it happens, and can cause an extra week delay!), and loading onto trucks to be sent to your dealer. Read this thread on NAM to get a behind-the-scenes peek at what happens at the California VDC.
If all goes well, after a few days your MINI will be on a covered truck and on the road to your dealership. Your MA should be aware of the truck on its way and should let you know your MINI will be there very soon! Have a look at my photo gallery from an event last year where a truck dropped off MINIs while we were at the dealership for an event…It felt like the driver was putting on a show for us! Your wait is almost over as your dealer does the final prep and performs any accessory installations, and waits for the final paperwork to go through. Before you know it you get that call you've waited weeks for!