Boombox Costume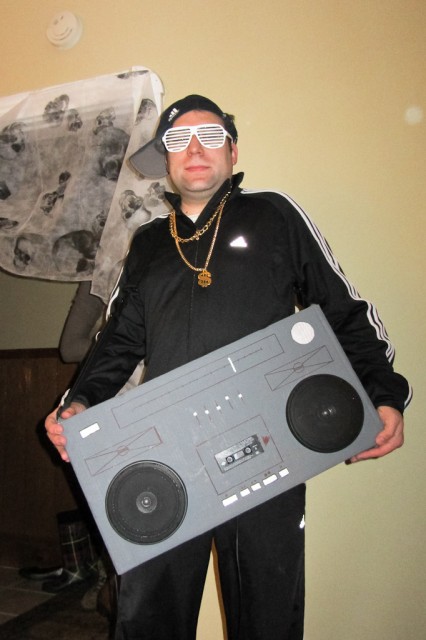 There is a lot of creative competition among our friends for Halloween costumes. Typically I wear some form of cardboard box. I have a tough time coming up with something good each year, but just a week ago I thought of making a boom box–but only if I went the extra mile to make it functional!
The key element is my Sonic Impact battery-powered T-Amp that can power full size home speakers off of AA batteries. One of those gadgets that I grabbed years ago and until now never had a great use for. (You can get a rebranded one here at Parts Express) I also ordered some cheap 2-way 6.5-inch car speakers. The amp did drive the 4 ohm speakers but the sound wasn't very full, no bass but good enough. I grabbed the SRS WOW MyTunes app which added some live sound processing to my iPhone and really punch up the bass and sound quality, as well as do a bit of DJ-like transitions between songs.
Concerned about power, I duct taped together 8 D batteries to assist with the AA's. As I started building I changed the design from a huge box around me to just a normal-sized boom box, which I got away with because I managed to come up with a suitable outfit to go with it. I spent a few days making an 80's rap music playlist including DJ Jazzy Jeff, Run-DMC, Salt-N-Pepa, and of course the Beastie Boys!
Everything worked flawlessly. Thanks to my good friend Physics, the cardboard box resonated perfectly with the speakers and ended up producing excellent sound with plenty of bass. In fact I had no problem overpowering the stereo and large crowd at the party, which it felt like followed me to every room with my own soundtrack following me around! The boom box ran at full volume (except when I was told to turn it down a few times) for many hours and still shows no sign that it's out of juice. I'll have to keep it around as an iPhone dock…"portable" at around 20 pounds and powerfully annoying sound, I don't know why these things went out of style!