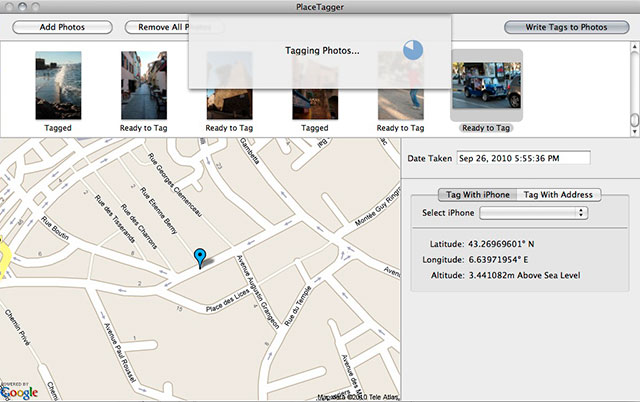 Many modern photo gallery sites (as well as my own) now support geotagged photos–displaying where exactly they were taken on a map. Very few cameras, however, have a built-in GPS. For years I had considered getting a specific gadget for doing so, for $100-200 it is essentially a small GPS logging device that you later sync with software on your computer that matches up the time of each photo to find where it was taken and adds that information. But with the iPhone, you already have all you need.
PlaceTagger was one of the first iPhone apps to do this, and I grabbed it when it debuted a few years ago, but had only used it occasionally. Last month's trip to Europe was the perfect opportunity to record the location of the hundreds of photos that I took. With the iPhone 4, PlaceTagger barely uses any battery either, about 5% per hour, and runs nicely in the background.
Typically the computer PlaceTagger app finds your iphone on the same network and works very easily to find its data. However I came across some trouble thanks to changing time zones. After some research, it turns out that PlaceTagger records time in GMT, then assumes the camera is set to the time zone of your computer. Of course that wasn't true with my home computer. I had to export an XML file with the date range, then search & replace the times to correct for it (in my case, setting everything 5 hours ahead). Had I left my camera set to EDT, I wouldn't have had that trouble.
So as I slowly start adding my Europe photos to my galleries, be sure to look for the Map link in most photos to see where they were taken. Of course, the iPhone does this all automatically for any photos taken with its own camera.