George's Island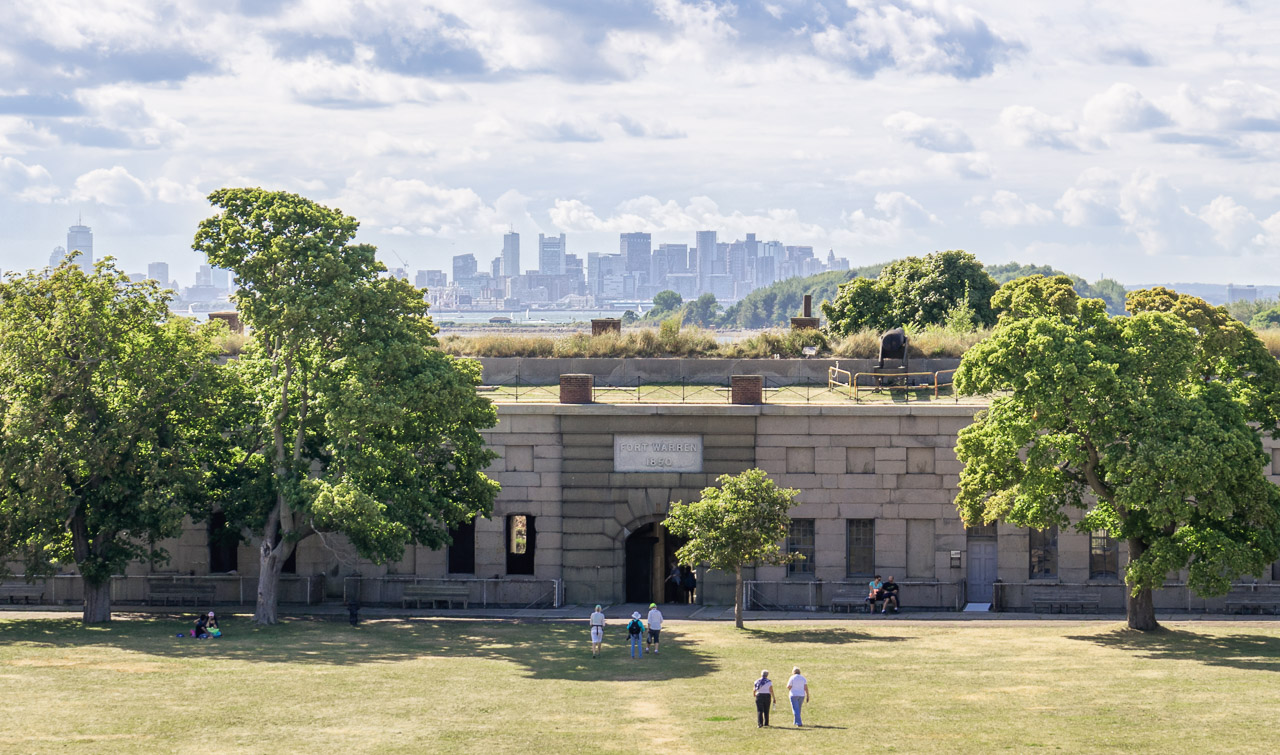 A few miles out into the Boston harbor, there are several small islands. Despite living in Boston for over a dozen years I only recently discovered that there are frequent inexpensive ferries from the city to the harbor islands. Last summer I was determined to visit the largest island which features a large fort dating back to the civil war: Fort Warren. I was unprepared and completely surprised by what I discovered at George's Island, and quickly returned a few weeks after my first visit to capture some of my favorite photos of 2014.
After an enjoyable ride on one of BHC's various ferry boats and a short stop at Spectacle Island,  I was first welcomed by the George's Island visitor center and museum, with the walls of the fort as a backdrop. There's a picnic area with sandwiches available, but there are plenty of more interesting areas to have a picnic or even grill up lunch. Before entering the fort, we walked along the small beach and park, where I was surprised to find a live band performing out in the sun. This is a great spot to get away from the busy city and enjoy a day near the water, if only there wasn't an amazing historical fort just behind me begging to be explored.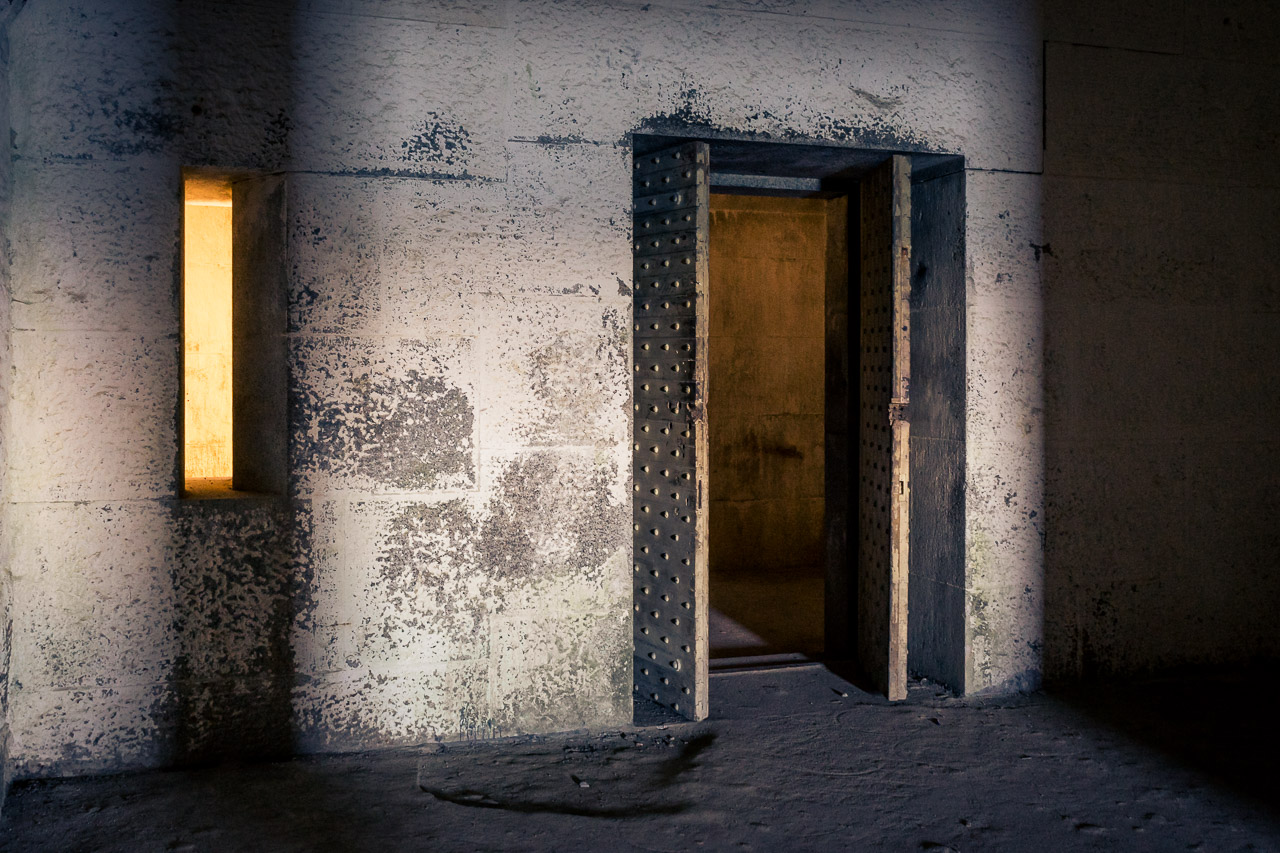 Over a drawbridge, through giant tall doors, I entered the central courtyard of Fort Warren. The sound of the rock band performing in the park disappeared, curiously replaced by that of a string quartet performing inside the fort. We could have sat and watched the performance, but there were giant fort walls to climb, and canons to see! On top of the fort's walls, there are dozens of canon placements, and an incredibly unique view of the Boston skyline, surrounded by water. Walking along the top of the fort to the back of the island, the walls change to a massive concrete bunker, with the remnants of enormous guns, which could fire one thousand pound pieces of lead a whopping eight miles out into the sea! No wonder Boston hasn't been attacked since 1776.
The most incredible part of Fort Warren exists beneath this massive slightly more recent concrete bunker. We entered massive brick and stone rooms from the courtyard, where more guns would shoot through holes in the concrete. The outer rooms were lit by sunlight pouring into these openings, painting out the dark shadows on the arched ceilings.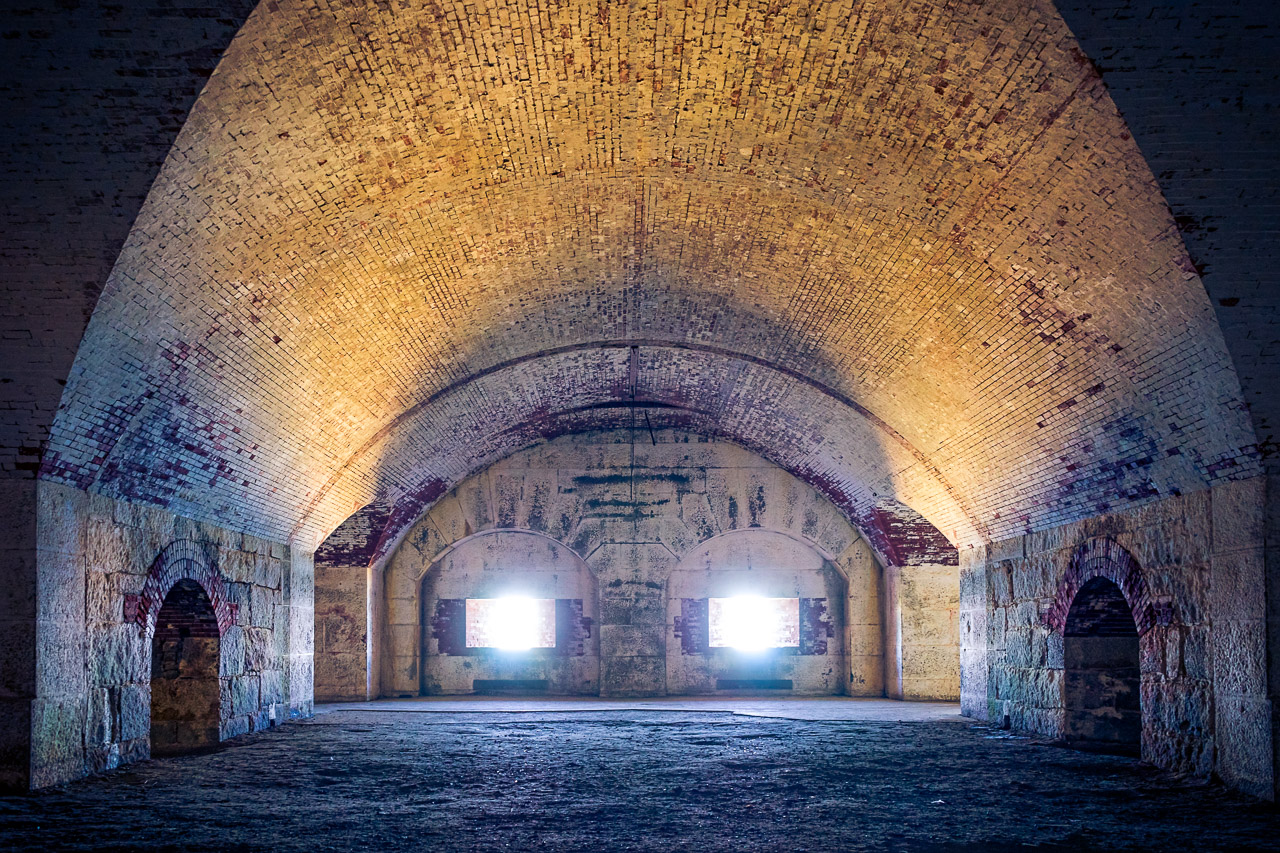 Further in, I started to hear what sounded like monks chanting echoing through the rooms and tunnels. The interior tunnels were much smaller and pitch black, I had to use my phone as a flashlight to find the source of the chants. We didn't even know what we walked into when we arrived, it was so dark all you could do was stand in astonishment at the incredible echoing chorus of people singing in this giant underground room. It took minutes before my eyes were adjusted enough to realize they were gathered around a tiny splash of light seeping through a vent in the ceiling. I took this 2.5sec exposure at ISO 16,000 just to document this; to give you an idea my phone screen was all that was illuminating the brick walls…it was much darker than pictured!
There were many more tunnels and rooms to explore, and something different around every corner. The complete darkness only added to the tension, with my phone only enough to illuminate a few feet ahead. On my return trip, I was sure to pack a monopod and an impressive array of flashlights, enabling me to illuminate and capture scenes like this incredible tunnel exit: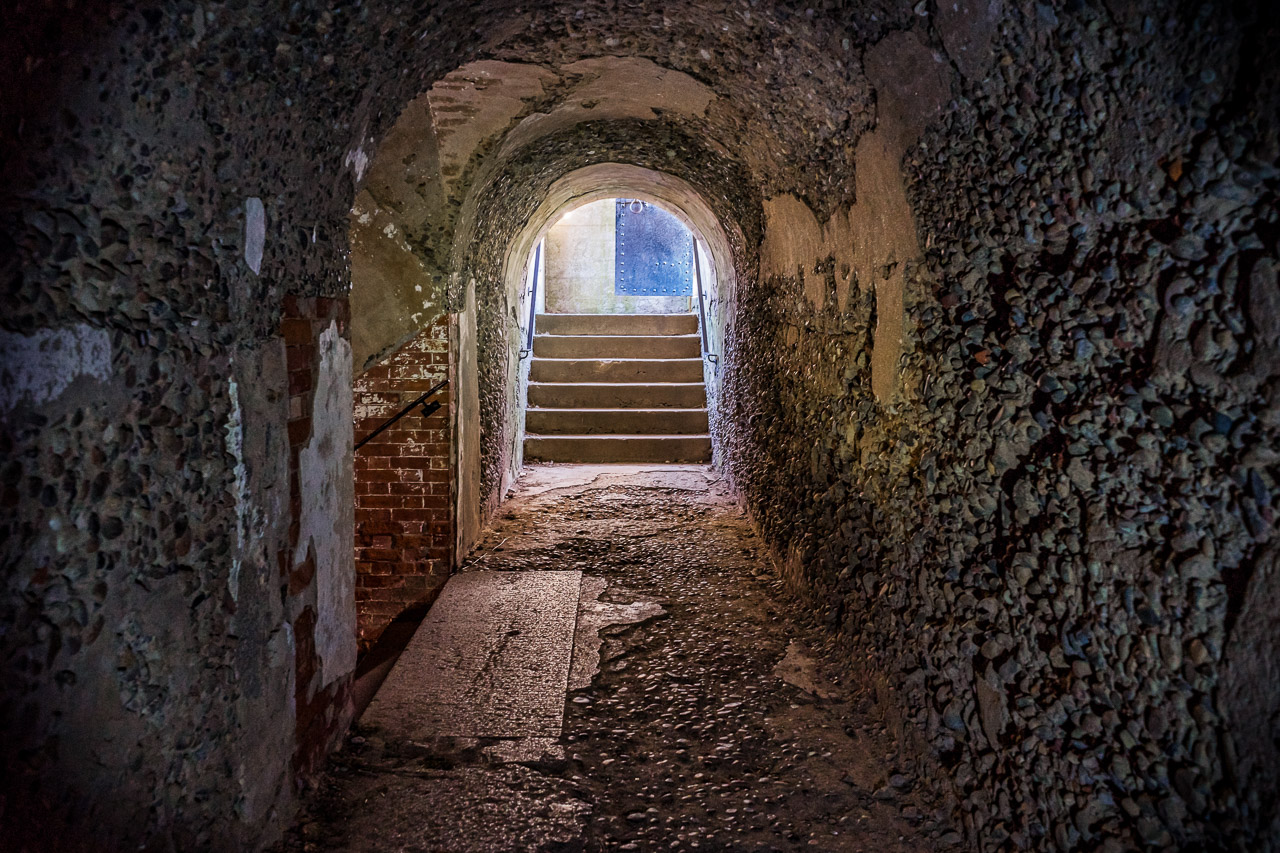 Out of the tunnels, there is still more to explore in the old crumbling remains of the original fort. Many rooms have collapsed but some are still intact and accessible. This room was part of the semicircular demilune, actually outside of the fort walls.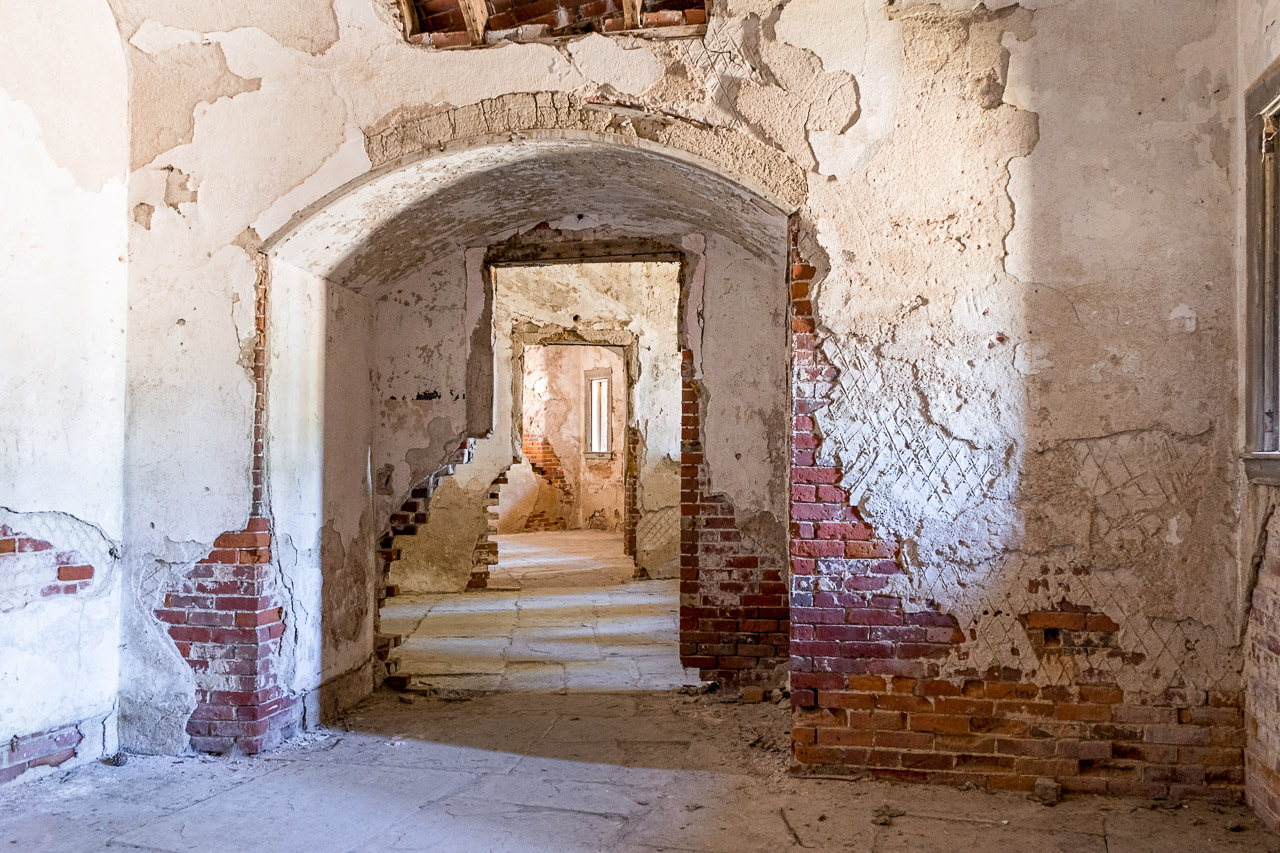 In contrast to all the stone and brick, the original baking and food storage and serving areas are all well preserved in giant planks of wood. Their aged colored look still manages to be just as creepy.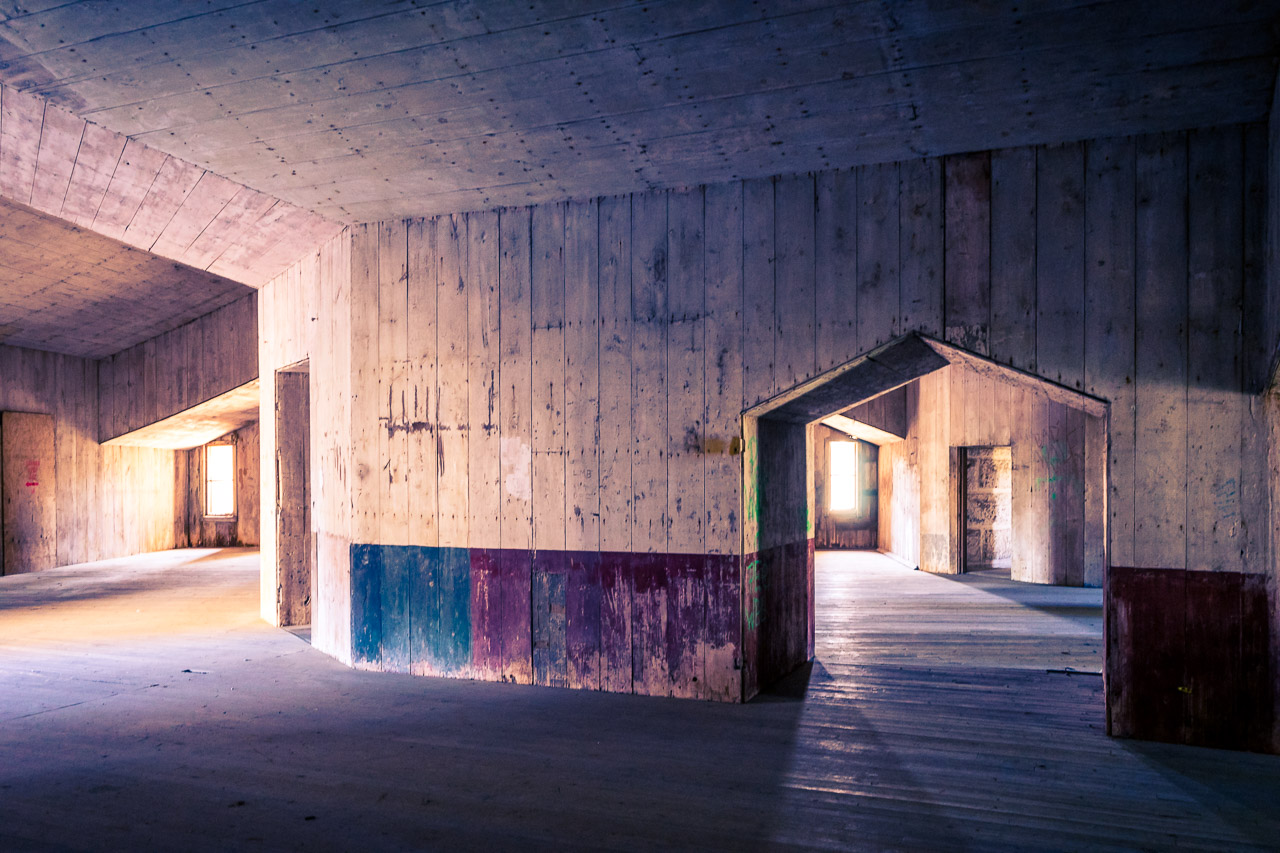 If you visit George's Island, remember to bring some flashlights, as well as plenty of water to drink. Dig out that tripod. Here's a map of some of its many features. I hope to return to the island soon, but next time hopefully it's with a bathing suit and some charcoal for the grill!
Click through to view my complete George's Island photo gallery.
Posted from Boston, Massachusetts, United States.