A New Camera System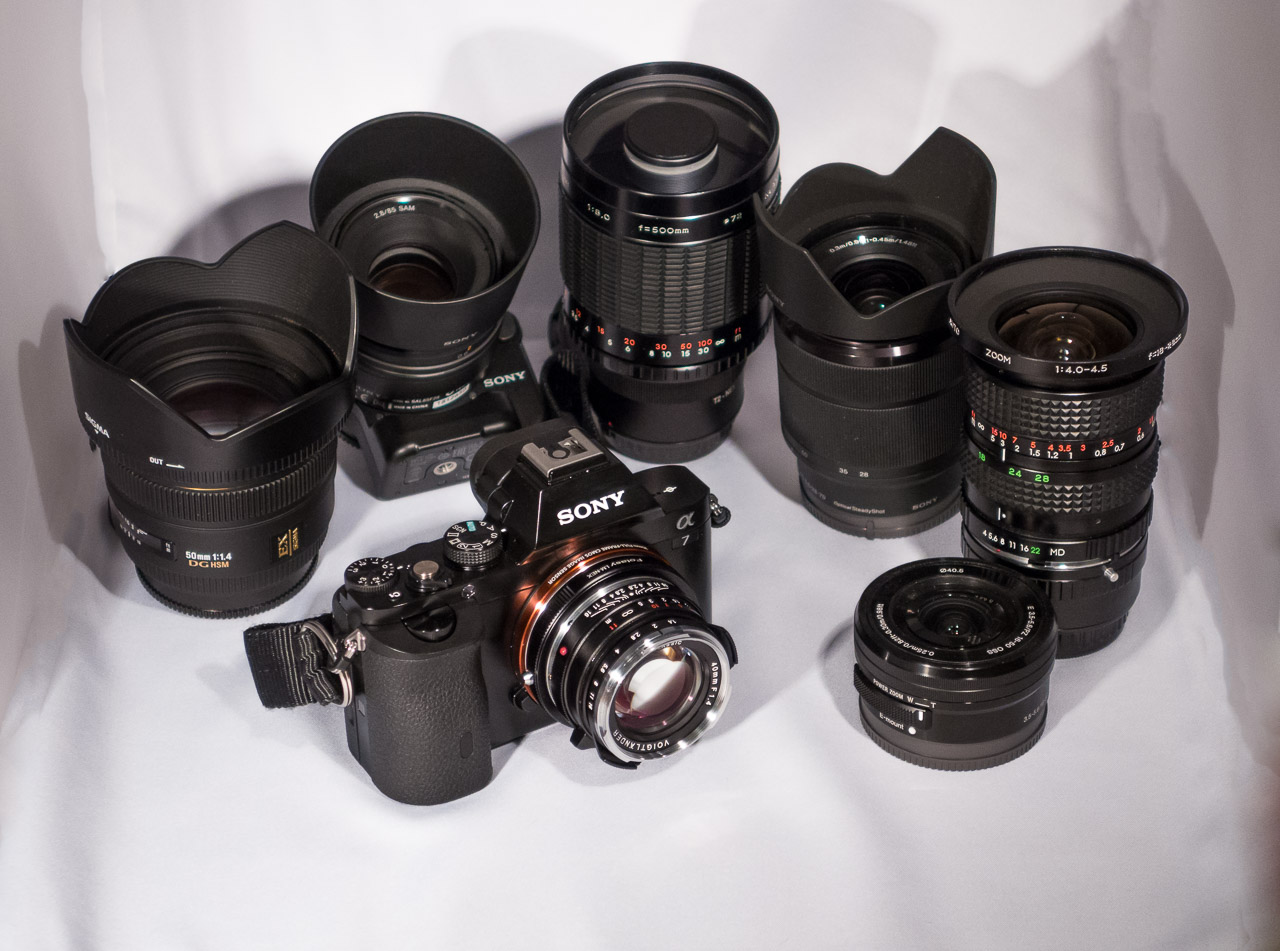 Two months ago, I did the unthinkable: I sold off all my Canon gear, and replaced my aging T2i with a Sony A7. Not long before, I was strongly rooted in Canon and never considered Sony a real SLR player. After my usual extensive research I realized Sony truly changed the game with the a7, and I managed to get a significant increase in photo quality, smaller size, more modern features, plus a jump up to full frame sensor for almost no cost at all!
I intended to update from my T2i years ago, but Canon had not improved the quality of its APS-C sensor over the last several generations. I had long outgrown it and was ready to step up at least to a 70D for newer features, but the cost stayed high and I knew quality was not taking a significant step, so I kept waiting. Meanwhile, Sony had been making impressive sensor quality advancements over the last several years, the reason behind Nikon's recent leapfrog over Canon's quality and sensor advancement. Sony's NEX series was not quite serious enough for me though. Then here comes this new a7 with full high-end SLR quality, modern features, and astonishingly a full-frame sensor crammed in a small mirrorless body.
Many years ago I was one of the first to jump on the retro mirrorless bandwagon with the Olympus EP-1. I loved the look and feel of the camera, more portable size, and its ability to use Leica/Voightlander lenses with a simple adapter. Unfortunately I did not use it much, as I gravitated to the Canon SLR for the significant quality difference of the larger sensor and increased shooting speed. Mirrorless has come a long way since then, but until now sensor size has been much smaller. I had always been happy with APS-C, liking the smaller camera and lens size, and significant price difference vs. full-frame. But with the a7, Sony turned all of this on its head and crammed a full size sensor in a small mirrorless body, at an APS-C price point. Just look at the significant different in sensor and body size between the a7 and the T2i: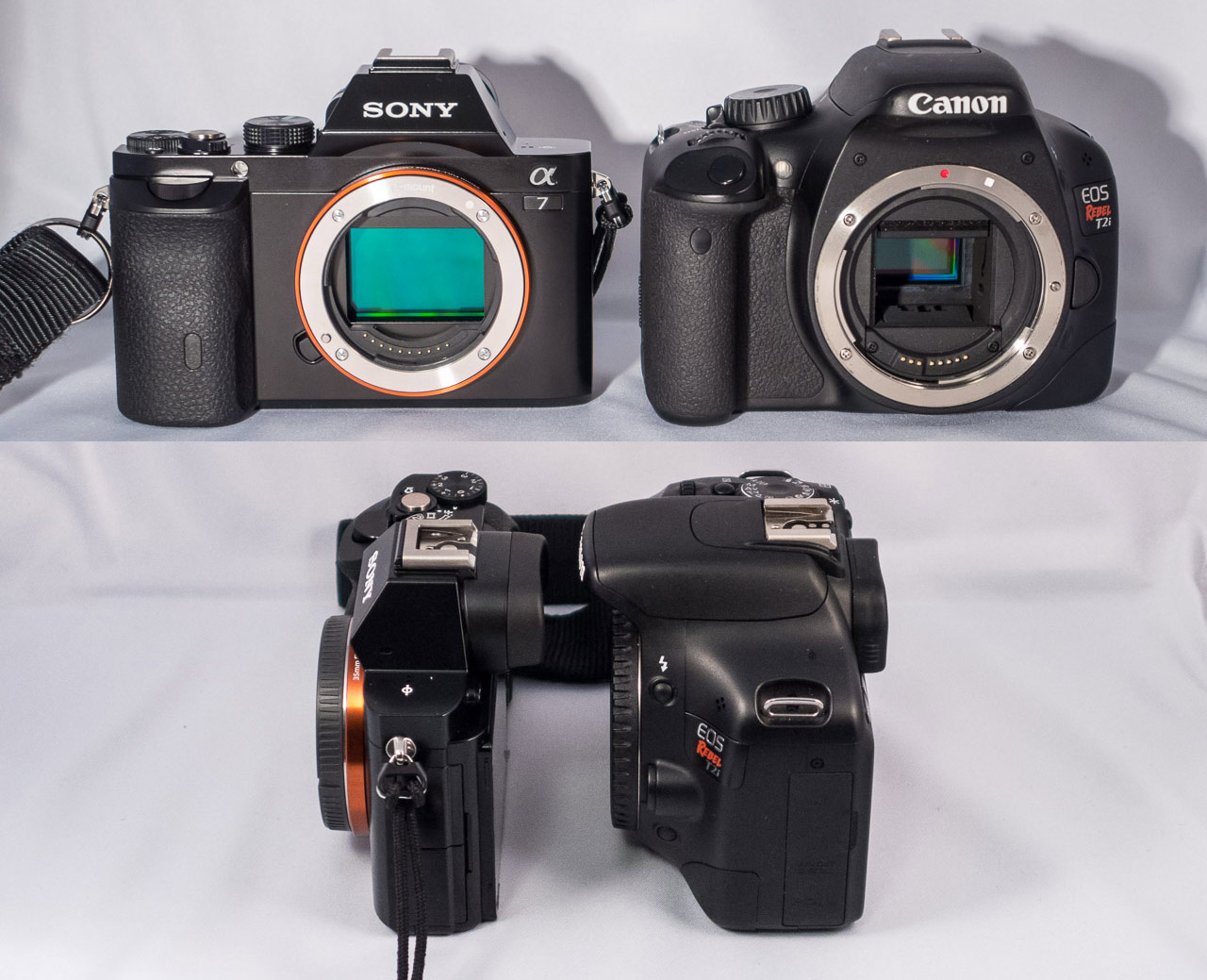 I managed to get some good deals on used equipment, and for about the same as wheat I sold all my canon gear for, I have a roughly equivalent system. One of the best features is the ability to mount almost every lens every made with cheap adapters. Pictured (at top) on the camera is the Voightlander Nokton 40mm f1.4 for Leica M. Compare that tiny lens to the nearly similar Sigma 50mm f1.4 EX for Sony Alpha on the left (when I need high speed autofocus for). On the far right is an old 18-28mm wide lens from my mother's Minolta SLR. In addition to the 28-70 kit lens, I also have the Sony 85mm f2.8, and the pocket change Samyang 500mm f2.8 mirror lens. The smallest lens pictured is the only non full-frame lens, the super compact EPZ 16-50 for Sony NEX, which does crop the resolution but is super portable. I can gradually replace these with native full frame FE lenses as they are released.