Flatbread Pizza Co in Davis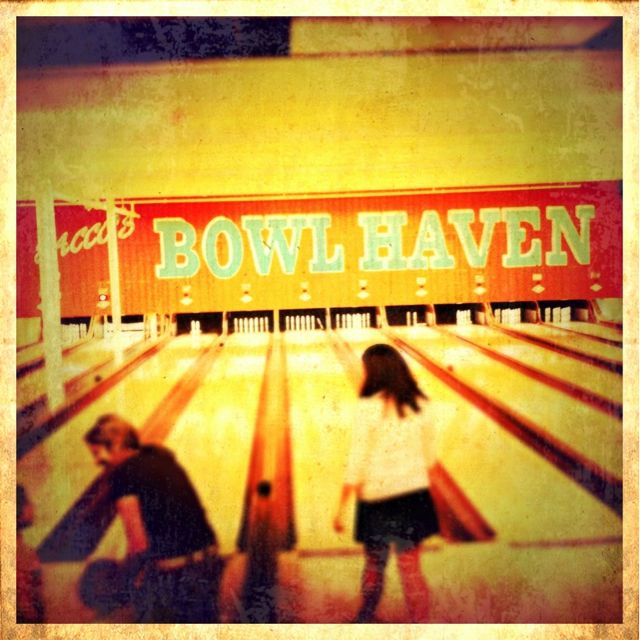 Last night we finally went to the new Flatbread Pizza Company in Davis Square. It took over the divey Sacco's Bowl Haven but with a bit of brilliance, left the ten lanes of candlestick bowling untouched. I didn't get a chance to bowl, but it certainly made a much more interesting backdrop to the bar than your typical wall of TVs.
I was here for the pizza. We have probably hundreds of pizza places within a few miles, but time and again I'm not impressed. Most are greek style take-out, the italian ones always seem to miss the mark, and in the end I keep on trying new places in search of perfection. Upon entering the door, I was hit with the strong tomato sauce aroma that you might find in only the best italian or pizza restaurants. Turning the corner, there are two giant clay pizza ovens, and wood stacked everywhere. That wood was burning underneath those ovens, as well as a giant cauldron cooking up fresh tomato sauce. I don't think I've seen that before.
We didn't have to wait long for a seat at what must be the longest bar in the area, and greeted by a familiar ex-Redbones bartender who just added to our already positive experience when she recognized us. I was then quickly impressed with the beer selection, which is not to say extensive, but more choicefully picked; plenty of local and national craft beers and a cheap Gansett as well. In fact I believe it's the only place I've seen Watch City on tap other than the brewery; the Red Ale was spectacular.
We decided to try as much as possible and gorged on three small pizzas. I'll always order a plain cheese ("Jay's Heart"), and we also went for a Homemade Sausage, and the Carne special which included homemade meatballs, peppers and onions. I was most disappointed with the sausage, I could not even taste the meat, and we forgot to order it without mushrooms which it was smothered with. Apparently it reads well though, because not only did it fool us, but was the most common pizza we noticed served. Every week they have a veggie and carne special, and ours was good, although again I could not really taste the thinly sliced meatballs; the fresh peppers and onions reminded me of my favorite greek pizza flavor but on a much much better crust.
The Jay's Heart plain cheese is what impressed me the most. Usually gourmet pizza places can't do that right at all. It must be their made-in-house sauce and of course the excellent crust, but I think I can say this might just be the best plain pizza this side of the North End. I can't wait to go back and order a large. We were full of great pizza and beer, but couldn't resist ordering the awesome brownie sundae, warmed in the pizza oven and served with ice cream and maple whipped cream.
The restaurant just fits with the Davis Square vibe. Gourmet, all-natural food, craft beer, retro bowling. I just hope its tucked-back location keeps it from being discovered by the college kids when they return next week.
Posted from Medford, Massachusetts, United States.